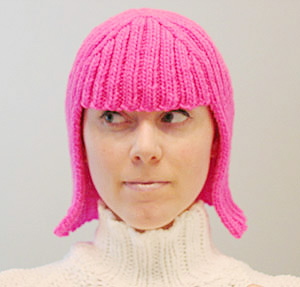 Now that I'm finished with Macey's blanket, I'm on to the next gift. It's a Halloween Wig, designed by Megan Reardon, published by Knitty.com. If you click on the wig picture, the pattern will be displayed (assuming the links are not broken).
This is for my boss at work, because she needs some cheering up. It will be in bright red. I wanted to find some yellow, but couldn't. I cast on and have knit a couple of inches. I'm using the yarn called for in the pattern... Red Heart (yucky acrylic), which happens to be perfect for this project. It's stiff and ungiving, so it will hold its shape. I must say that my hands don't like working with this stuff. It's like knitting with spun plastic.
It shouldn't take too long to finish, so she should have it in time to wear it on Halloween, if she wishes.