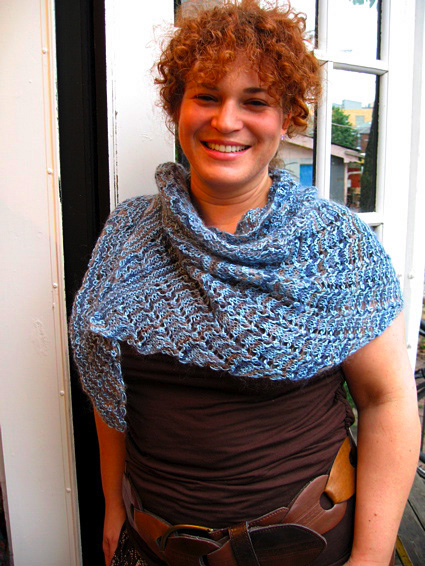 I like this issue of Knitty.com. (The picture is a link to the Fall, 2006, issue.)
As usual, there are various technique articles and a spinning/dyeing section too.
Also as usual, I would pass on most of the patterns because I'm not as young as or as thin as the models, upon which most of the garments looked fine. All the women's sweater patterns I looked at had sizes up to 3X. Knitty is very good about remembering large people.
Here are the items I liked.
Tamarah, by Iris Schreier, is a nice, small shawl that will work with variegated yarn. It's made with two yarns: 1) 100% silk and 2) 70% mohair/30% silk. It is pictured in this post. It looks like the construction of this one would take a little thought, which is a good thing.
Avast, by Jesse Loesberg, is a smashing man's sweater with a horizontal cable around the hem. It has raglan shoulders so it would need a broad-shouldered body.
Sugar on Snow, by Lee Wood Juvan, is a fun, cabled hat that turns into a neck warmer. The idea is that you start out cold and then the day gets warmer, so you slip it loosely around your neck. The crown of the hat is drawn closed by an i-cord tassel that you loosen when you want to change the hat into a neck warmer. Cute, and sized for children and adults. Good gifting item.
Lizard Ridge, by Laura Aylor, is a beautiful (really beautiful) afghan. You can make it all in one piece or in small pieces that are joined. It works very well in Noro's Kureyon yarn.
Back to School, by Star Athena, is a collection of washcloths with letters (words = "study" and "party") duplicate stitched onto a band in the cloth. You could fit your own words of choice onto the cloths.
Lucie, by A.L. de Sauveterre, is a sweater which I'm not fond of; however, I do like the floppy collar.
So, that's quite a bit to like from one issue.